The future of lighting has arrived with Connected Solutions.
Lighting has entered the digital age with the use of LEDs and smart technology components. Connected Solutions enabled luminaires integrate with intelligent building management systems through wired and wireless networks, allowing occupants to control lighting for maximum comfort and energy efficiency. The information collected via the sensors can also be used to modulate HVAC and optimize building maintenance. With the increased demand to meet energy codes and requirements for high performance buildings, Connected Solutions provides an answer for reducing energy costs and increasing tenant well-being in new construction or remodel projects.
Connected Solutions for Smarter Environments
Focal Point Connected Solutions provide flexibility in meeting the needs of each project by integrating with several whole building lighting control systems. A variety of sensors, drivers and other components can be specified that allow the luminaires to communicate with wired and wireless networks. Daylight harvesting, occupancy sensing, integration with HVAC systems, and individual controls enable the monitoring and modulating of light levels and temperature in order to save energy, reduce costs, and maximize occupants' comfort.
Connected Solutions Partners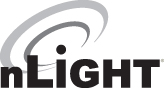 nLight® provides a two-way wired digital lighting system allowing for on/off and dimming functionality, occupancy sensing, and multi-zone daylight harvesting.

Enlighted smart sensor allows for occupancy sensing, daylight harvesting, energy usage, temperature and light level control. Communicates wirelessly with the Enlighted network.

Encelium's Connected Lighting Module (CLM) is fully compatible with the Encelium X Light Management System, as well as with 0-10V and DALI based LED drivers to allow for individual luminaire control, including on/off and dimming functionalities, occupancy sensing, and multi-zone daylight harvesting.

A Digital Lighting Management (DLM) system that provides two-way wired communication between networked luminaires and control system to allow for on/off and dimming functionality, occupancy sensing and multi-zone daylight harvesting.

A two-way digital network that enables on/off and dimming functionality, occupancy sensing, and multi-zone daylight harvesting working with Quantum®, Energi Savr Node™, and Energi TriPak® using EcoSystem® communication protocol.
Compatible Lighting Control Systems
Encelium X
Crestron Zūm Wireless & SpaceBuilder
Enlighted
Open ZigBee Networks
DALI Compatible Systems
Lutron Quantum
Lutron Energi Savr Node
Lutron Energi TriPak
More information about the capabilities of various lighting control systems is available from the DesignLights Consortium (DLC).