Reception and Waiting Areas
Reception and waiting areas are where patients and visitors may spend significant amounts of time. They should be designed to make them feel comfortable, support wayfinding, and communicate a positive impression of the facility.
Ambient lighting often needs to balance out natural light sources from the exterior and facilitate the visual adaptation of visitors to the electric light source. Vertical illumination on feature walls, as well as pendants that attract the eye help subtly delineate these areas.
The selection of unique and innovative options adds playfulness and dynamism to the ceiling plane. Integrated lighting and acoustic solutions can help make these areas feel joyful with pops of color and novel form factors, while also improving the overall comfort of occupants by minimizing noise levels.
Reception & Waiting Areas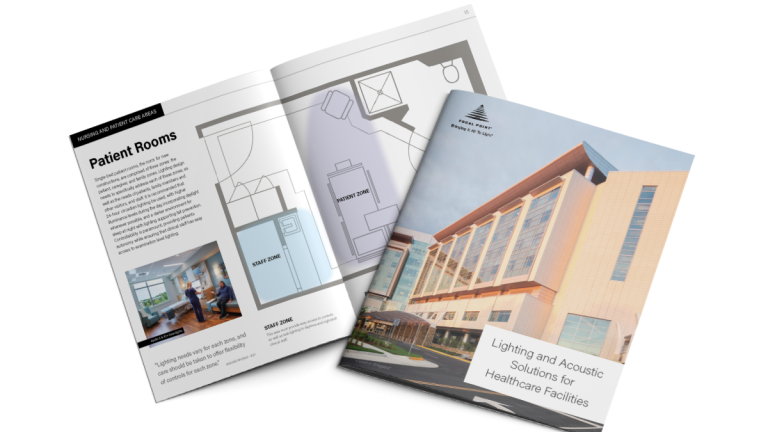 Healthcare Design Guide
Download the Lighting and Acoustic Solutions for Healthcare Facilities design guide to get product recommendations and strategies to optimize lighting and sound for each area of a hospital or healthcare facility.
Download Healthcare Design Guide
"Lighting helps to achieve a comfortable ambience in waiting rooms, and the use of diffuse layers of light is helpful in reducing veiling reflections from overhead lighting for tasks such as the reading of glossy magazines or backlit tablet devices."
ANSI/IES RP-29-20 – 8.2.4