Healthcare
Clinician and patient centered lighting solutions for healthcare environments
Architectural luminaires that provide the bright, glare-free lighting clinicians need as they assess and treat patients, along with soft ambient lighting and targeted reading lights to help patients feel comfortable as they heal. We believe that lighting solutions that enhance patient rooms, clinical rooms, and common areas of healthcare facilities don't need to look clinical or institutional.
Many of our luminaires are suitable for use in various areas of hospitals and healthcare facilities and support the recommendations of the Illumination Engineering Society (IES) as detailed in Recommended Practice: Lighting Hospitals and Healthcare Facilities an American National Standard (ANIS/IES RP-29-20).
In addition to meeting recommended illuminance levels in examination rooms, treatment rooms, and patient rooms, helping with wayfinding in corridors and elevator lobbies, or making entrances, lobbies, and waiting areas feel welcoming and comfortable, our luminaires also support the maintenance and cleanability requirements of hospitals, outpatient facilities, clinics, laboratories, and life science buildings. Several options and technologies also support specific needs, such as NSF certifications, IP and Wet Location ratings, Indigo-Clean visible light disinfection technology, BIOS SkyBlue circadian technology, Warm Dim, and Tunable White technology.
Our Connected Solutions program and PoE compatible luminaires enable easy connection to a variety of lighting control systems, helping meet the needs of patients, visitors, and clinical staff.
Discover more inspiration and luminaires for healthcare applications below and download our healthcare lighting design guide: Clinician and Patient Centered Lighting Solutions for Healthcare Environments for more space-by-space ideas and recommendations.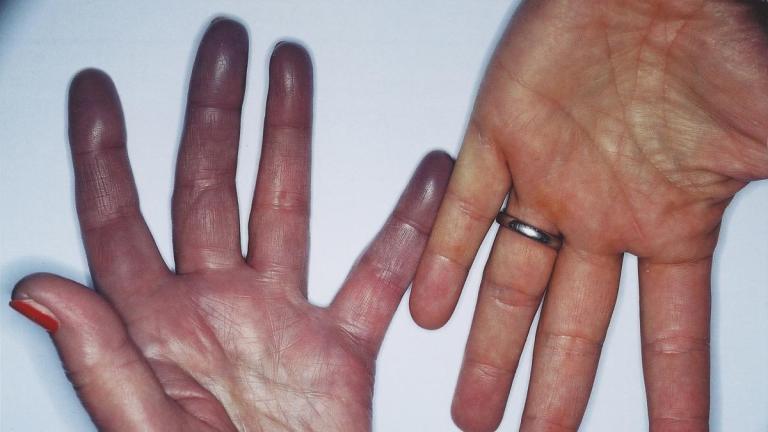 Cyanosis Observation Index (COI)
Cyanosis is a visual cue of an underlying medical condition, thus a light quality which permits accurate observation of "normal" and "blueish" skin tones is essential to the medical staff. The COI of a light source has been established as the parameter that determines its suitability for visual detection of cyanosis.
To ease the specification of our luminaires in healthcare facilities, Focal Point has calculated the COI of a large portion of our portfolio and has included this information on the cut sheets of several architectural troffers, linear luminaires, downlights, cylinders, and pendants. Look for a note in the LED System section on the back of our cut sheets. 
Learn More About COI