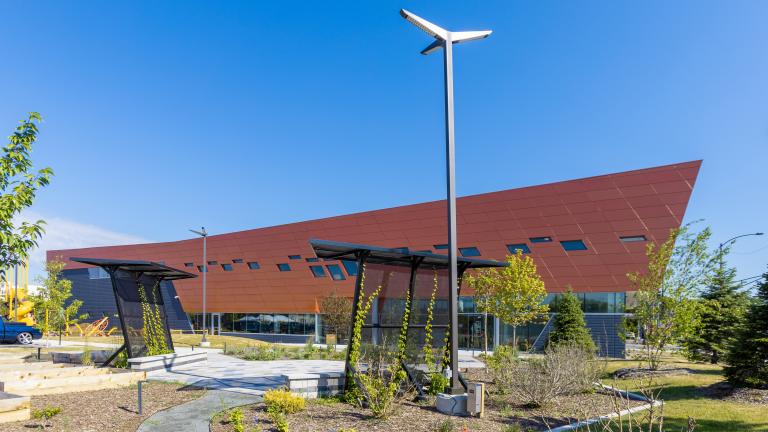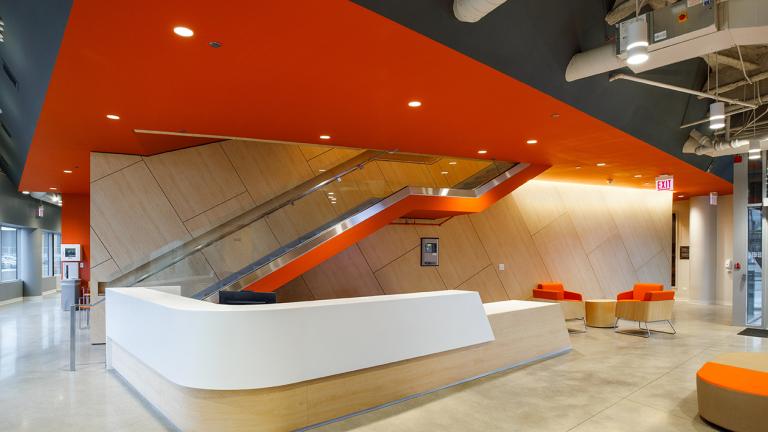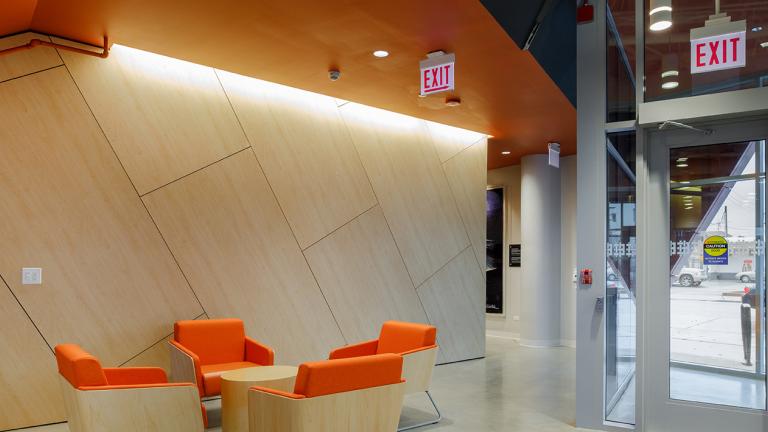 A vibrant healthcare, wellness, and community hub
As Esperanza Health Centers sought to build a visual beacon that would represent its mission in the Brighton Park neighborhood of Chicago, it partnered with architectural firm Juan Gabriel Moreno Architects (JGMA), which has a long association with projects designed to positively impact underserved communities.
JGMA designed a striking, angular building with a modern, orange facade, referencing Esperanza's brand colors. The purpose-built facility, that combines healthcare, wellness activities, and a central oasis for the community, is as lively inside as it is outside.
Focal Point donated the luminaires, giving back to a community where several of its employees reside. The team partnered with JGMA to carefully pair each area and function of the new building with luminaires that would create a visually engaging, warm, and comforting environment.
"What we really loved about Seem 1 Acoustic, is that it allowed us to design spaces that helped reduce some of the ceiling costs, while still addressing acoustics and lighting as one streamlined aesthetic."
Dan Spore, senior project manager, JGMA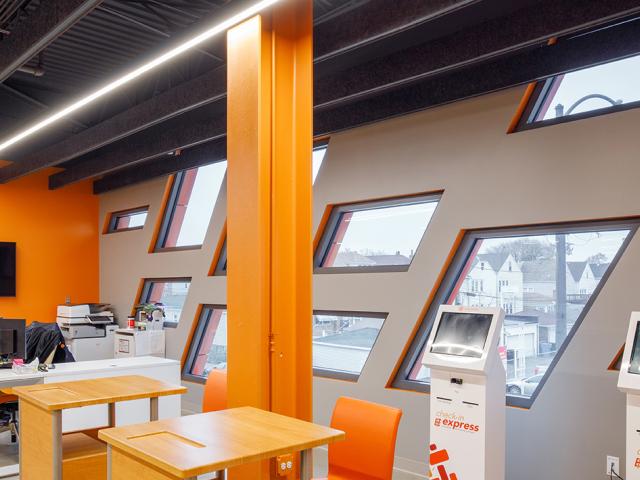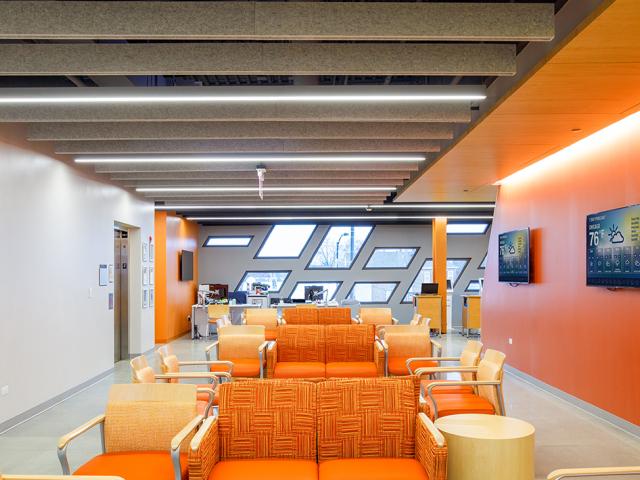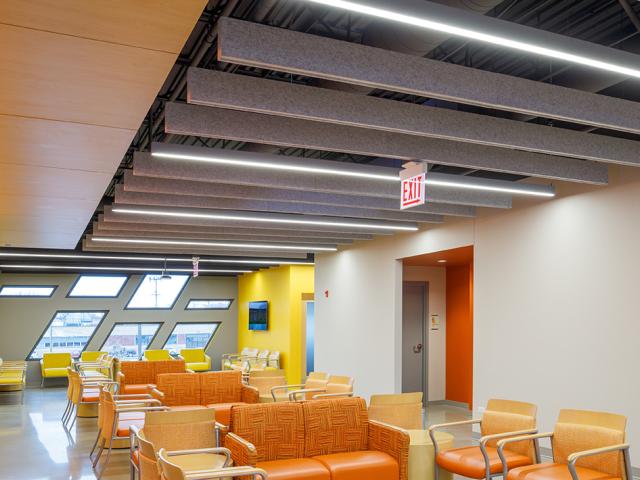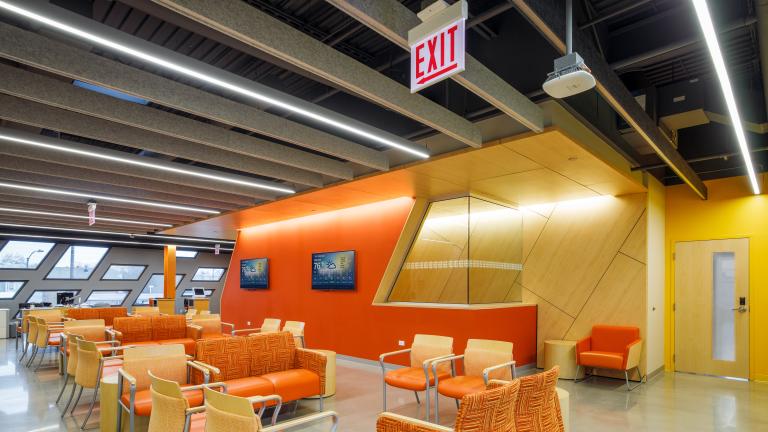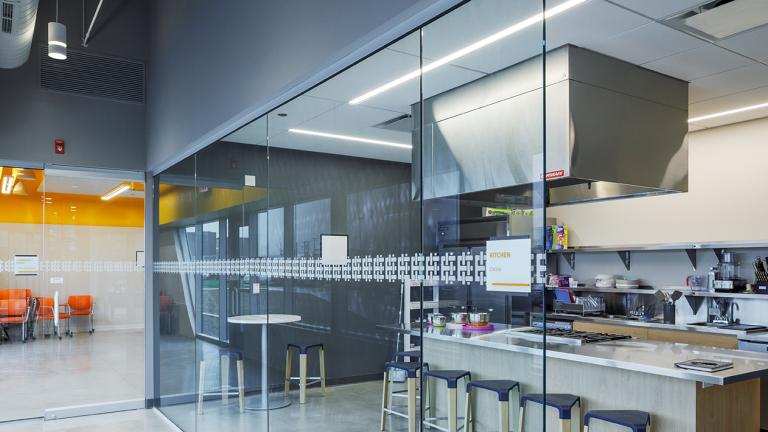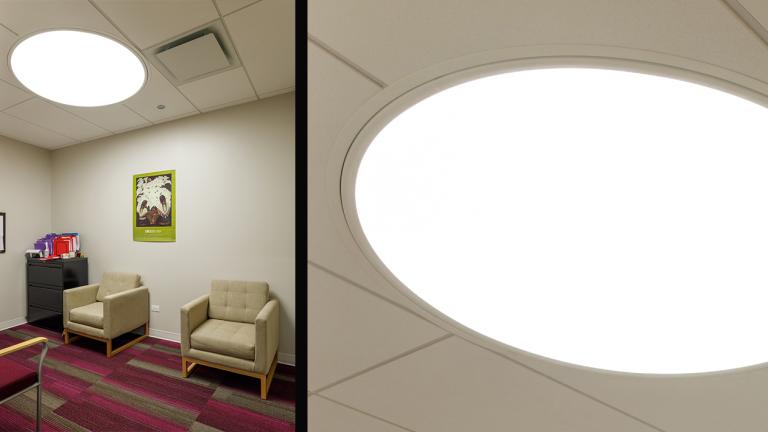 In the lobby, Focus Wall Wash was used to turn a feature wall of natural wood into the central visual touchpoint of the space. Though ceiling surfaces would remain unfinished, the use of ID+ Cylinders shifted perception by adding an element of both design and lighting, "allowing the eye to focus on light rather than exposed dark elements in the space," said JGMA senior project manager, Dan Spore. In adjacent ceiling spaces, ID+ Downlights with a matching aperture size were used to provide a seamlessly coordinated environment.
As in most modern spaces with unfinished ceilings, acoustics were also a concern. Focal Point's Seem 1 Acoustic Unlit helped address noise abatement in waiting areas and corridors without requiring additional changes to the ceiling, while Seem 1 Direct provided striking illumination.
Special care was needed to illuminate therapy rooms, where Skydome luminaires were chosen for their ability to provide diffuse light and a calming environment. 
Focal Point lighting and acoustic products acted as a seamless solution throughout, helping the team reach not only the project's technical goals, but its loftier ideas as well. Patients and community members are welcomed in a state-of-the-art, accessible building that not only fosters inclusivity and human comfort, but also sparks pride in the community.