Three Focal Point products are awarded 2019 PIA Awards
A distinguished panel of eighteen judges consisting of designers and lighting specialists awarded three Focal Point products an Architectural SSL magazine 2019 Product Innovation Award.
"We are committed to introducing products that support the architecture and design community and are honored that this group of highly skilled individuals recognize Focal Point luminaires and acoustic solutions as products that are making an impact in today's interior spaces," said Mike Thornton, Chief Marketing Officer for Focal Point, LLC. 
The Architectural SSL Product Innovation Award (PIA) recognizes the most innovative LED and solid-state luminaires and fixtures on the market, while also spotlighting the players behind the components that make up these light sources.
ID+ Cylinders, Seem® 1 Acoustic and Skydome Edge® and Skydome Edge® Acoustic cloud system captured the attention of the judges, displaying noteworthy attributes and superior performance, surpassing the competition to obtain the prestigious accolade.
Winning Luminaires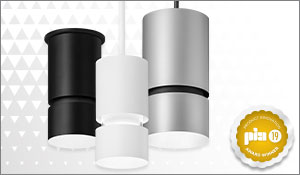 ID+ Cylinders
A companion to the ID+ Downlights family, ID+ 3.5" and 4.5" aperture cylinders provide design flexibility for open ceiling applications. A single-piece die-cast reflector, featuring a knife edge and decorative reveal, adds a sophisticated aesthetic to commercial spaces.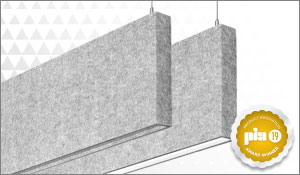 Seem 1 Acoustic
Seem 1 Acoustic is a linear luminaire and baffle system designed on the Seem 1 platform using an eco-friendly, sound absorbing housing material. The new system leverages the advanced light engine, narrow aperture, and various lumen outputs of Seem 1 while reducing reverberation issues in open, multi-use environments. The system can be specified with direct, indirect, or indirect/direct light distributions, or as an unlit acoustic baffle to achieve the desired illumination and acoustic reverberation levels with a coordinated look. A palette of 30 PET felt colors, from neutral to bold, allows designers to personalize each installation.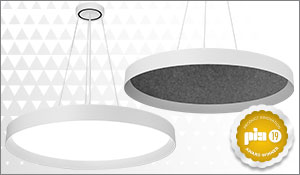 Skydome Edge and Skydome Edge Acoustic cloud system
Skydome Edge and Skydome Edge Acoustic cloud system is designed to leverage advanced lighting technology and address noise and reverberations issues common in open, multi-purpose spaces. The integrated system simplifies specification, sourcing, and installation and procures a unified look that enhances the architecture of each interior space. The system encompasses Skydome Edge luminaires and Skydome Edge Acoustic cloud, both offered in nominal 2-, 3-, or 4-foot diameters with custom finish options and 30 colors of sound-absorbing material to choose from