LightFair is the premier, biennial architectural and commercial lighting trade show and conference, the preferred marketplace, networking, and learning destination bringing the best and the brightest together. The LightFair Conference has been setting the standard in continuing lighting education for 30+ years offering the lighting community the chance to earn CEUs, learn from the best and connect with leading practitioners. This highly anticipated event brings together thousands of industry professionals; lighting designers, architects, engineers, and manufacturers from around the globe to showcase the latest lighting products, technologies, and solutions.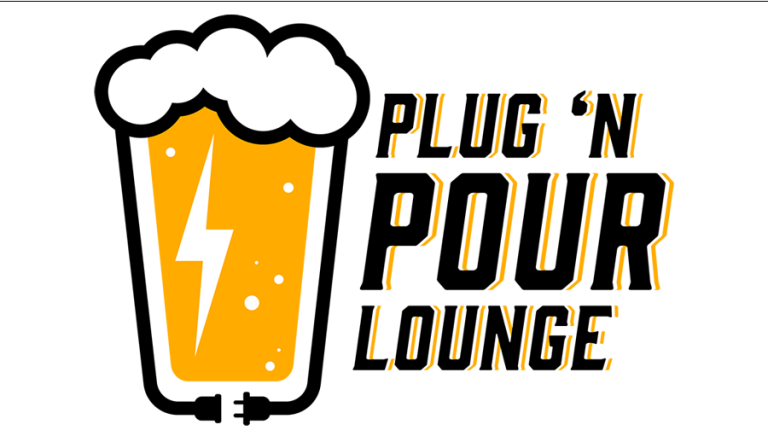 Plug 'n Pour Lounge - Located in the Design Pavilion
The Plug 'n Pour Lounge is the perfect spot for those who are looking for a pick me up in the morning and a nice wind down in the evening. Starting off the day, the lounge offers a coffee service that is bound to wake you up and get you ready for the day ahead. Later, when the coffee effect is wearing off, there is our happy hour. With a beer and wine bar, you can unwind and relax with coworkers and friends. But let's not forget, charging stations for electronic devices. Phone dying while finishing up important work or scrolling through social media - just plug in for an extra jolt to get you through the day!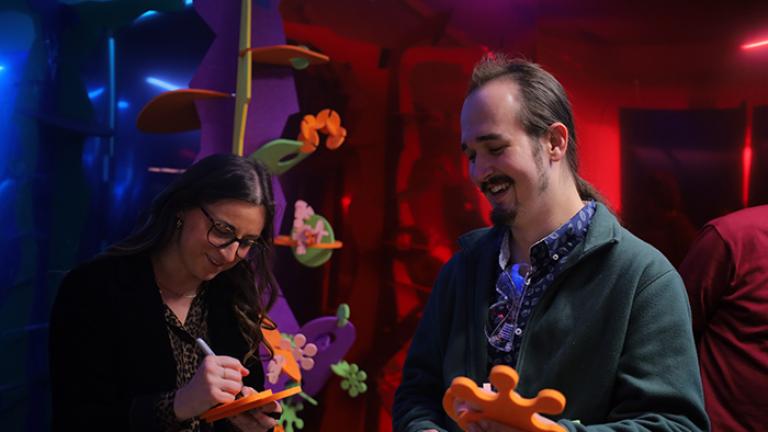 The Image Left, Behind - an Immersive Lighting Installation - Booth 2339
Focal Point is collaborating with esteemed lighting design firm FMS to participate in the first-ever Immersive Lighting Installation curated by IALD. The installation will offer a reflective and immersive space centered around the theme of The Circular Economy. The initiative is a contest where lighting design firms and manufacturers collaborate to create dazzling experiences that invite reflection on a theme that's top-of-mind in lighting: how to evolve the industry's model to better protect the environment, improve economics, and elevate social justice.  
We invite you to enter a reflective and immersive place to look at the unlimited possibilities of a single action that creates a dazzling sensation of never-ending space. Experience a shift in visual and spatial perception amplified by the play of color and lights reflected infinitely. Walk away with a piece of the installation made of 100% recyclable production waste and repurpose it for your use. Return to watch the exhibit transform through public interaction over the three days of LightFair 2023. Collectively ponder and participate in an initiative that eliminates waste by reusing recycled material and supports the Circular Economy. In the end, only the image is left behind.
What is on Display in Booth 3218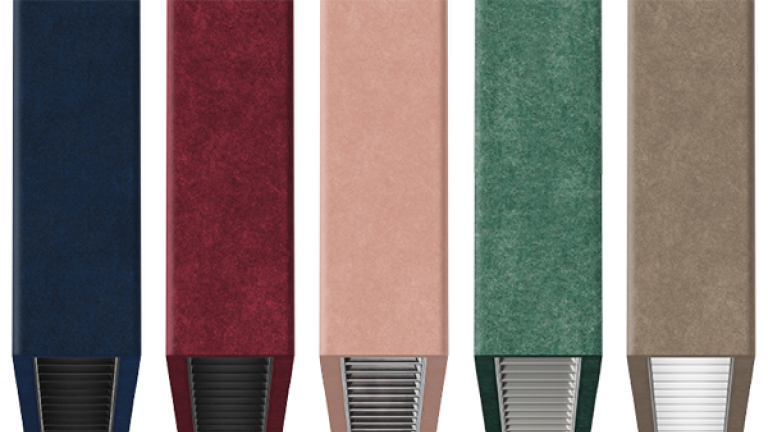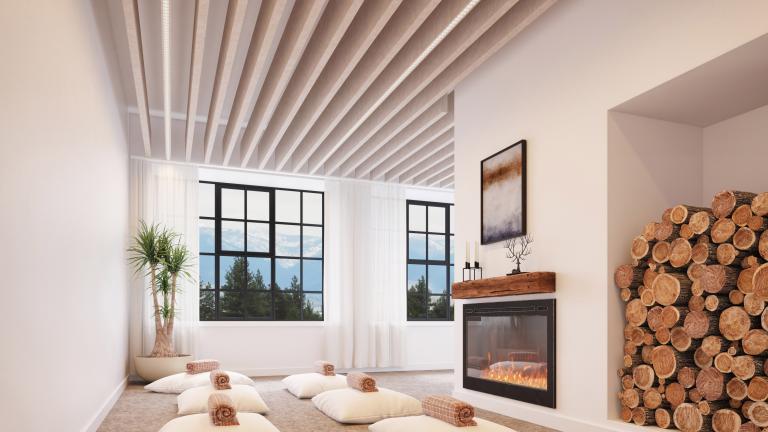 Seem 1 Acoustic Louver
Seem 1 Acoustic Louver marries the eco-friendly AirCore® technology with the ID+® technology for maximum sound absorption and visual comfort. Perfect for applications in offices, hospitality spaces, educational environments, and many more, Seem 1 Acoustic Louver features a wide palette of both neutral and vibrant colors to enhance any interior.
The continuous louver cells are available in 5 finishes and 5 beam spreads. Seem 1  Acoustic Louver supports diverse applications with 4' - 208' lengths in 6" increments, with 8", 12" or 16" housing height. The PET felt utilizes up to 50% recycled plastic, is Declare Certified, Red List Free, and has an ASTM E-84 Class A rating.
Seem 1 Acoustic Louver Direct
Seem 1 Acoustic Louver Direct/Indirect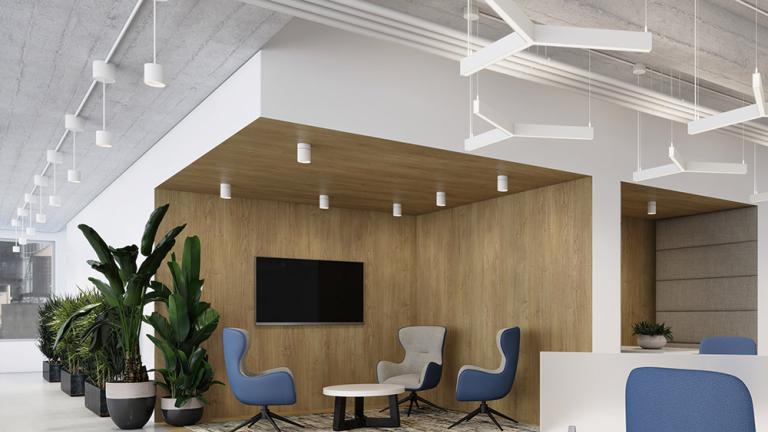 ID+® 3.5" Pure Cylinder
The newest addition soon coming to the ID+® family of cylinders has that pure, solid, seamless form factor that make it essential for many applications. The simple shape marries with powerful optics and a wide range of lighting options, making it a lighting tool of choice for open ceiling applications that really make interior architecture shine.
A very short length of 4.15" with a short cone, a medium length of 7.3" with short and tall cones, as well as custom lengths offer a host of possibilities for low-ceiling spaces and to fulfil the vision of specifiers. The aperture and high-quality optics perfectly match those of the ID+ 3.5" Downlights family – the perfect pair for interiors with mixed ceilings.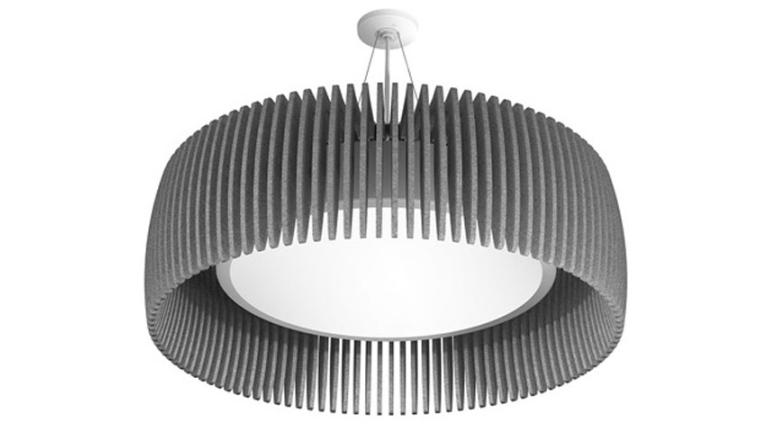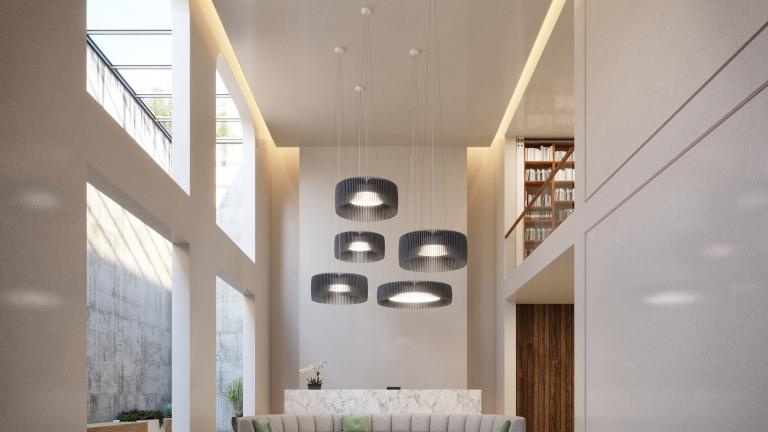 Acoustic Pendant
The acoustic pendant luminaire is an ideal solution to render any space more inviting and inspiring. Combining a sophisticated design with high-quality lighting and superior acoustics, the acoustic luminaire brings together form and function in perfect harmony. Impeccably suited to collaboration hubs, gathering points such as entrance lobbies or hospitality areas – anywhere striking visuals are paramount and exceptional sound dampening effects needed – it comes in three sizes (3', 4', and 5' diameters).
It uses the popular Skydome pendant as a light engine, embellished with PET felt fins that create a mysterious and light volume where light peeks through, and shadow and transparency effects transform at every viewing angle.