Smart Environments for Maximum Efficiency
Rising electricity costs combined with a growing number of increasingly stringent energy codes and requirements have intensified the pressure to create greater operating efficiencies in commercial buildings. The introduction of LEDs and smart technology has allowed luminaires to go beyond controlled illumination. Using the Internet of Things (IoT) and leveraging the electrical power and ubiquitous presence of lighting, lighting control systems have become a data collection and analysis platforms enabling smart building management. 
Focal Point's Connected Solutions enabled luminaires integrate with building lighting management systems through wired and wireless networks allowing occupants to control lighting for maximum comfort and energy efficiency. The value of these systems reaches more than occupants, they provide building owners and managers the ability to monitor and modulate light levels and temperature, empowering them to increase efficiency, optimize performance, and deliver more comfortable environments.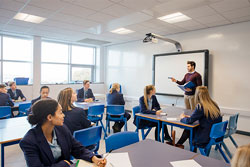 Connected Solutions provide flexibility in meeting the needs of each project by integrating with several building lighting control systems. A variety of sensors, drivers and other components can be specified to achieve daylight harvesting, occupancy sensing, HVAC system control, and individual control, in order to save energy, reduce costs, and maximize occupants' comfort. Each luminaire is also individually digitally addressable, allowing for easy zone reconfiguration.
Connected Solutions go beyond illumination. They help achieve beautiful, harmonious spaces, and change how people connect and interact with their environment. The broad range of Connected Solutions enabled luminaires, which includes a variety of recessed linear luminaires, suspended luminaires, and architectural troffers, enhance the tenants' well-being and building performance in commercial offices, healthcare and hospitality environments, and educational facilities.
Benefits of Connected Solutions
Allow for daylight harvesting, occupancy sensing and/or temperature control
Integrate with new and existing whole building lighting control systems
Data used to monitor and modulate for maximum efficiency
Adapt to individual preferences with scene control functionality
Increase occupants' comfort and well-being
Reduce energy consumption and maintenance costs
Increase safety and security
Reduce carbon footprint
Meet latest building and energy codes
Individually, digitally addressable to allow for re-zoning without rewiring 
See all Connected Solutions enabled luminaires Download the brochure