Underserved community receives state-of-the-art healthcare facility with the help of JGMA and Focal Point
When the non-profit Esperanza Health Centers began looking for a location for a new community health center, one thing was clear: they would go where they were needed most. After opening three other centers serving mainly uninsured and low-income patients in Chicago's Little Village and Chicago Lawn neighborhoods, the organization assessed its capacity and client base and discovered that a major expressway separated Esperanza from almost half of the people using its services. "Private doctors who were caring for those patients were retiring," says Dan Fulwiler, President and CEO of Esperanza Health Centers, "and they weren't really being replaced. We knew that we needed to be located in that community."
Esperanza's other centers were in rented spaces in vintage Chicago buildings. But the new center came with a grand vision: a purpose-built facility that would combine healthcare, wellness activities, and a central oasis for community activities. Social service agency Mujeres Latinas en Acción would share space and provide services under the same roof, making the building a full-service hub for the community. Esperanza is the Spanish word for "hope" — an important part of the organization's identity, and a quality that would inform the new facility, sited on a formerly vacant lot on a busy corner in the Brighton Park neighborhood. The organization's goals were to bring a lively, comforting and beautiful experience to the underserved southwest side; and to create a visual beacon that would represent the organization's mission.
Chicago architectural firm Juan Gabriel Moreno Architects (JGMA), which has a long association with projects designed to positively impact underserved communities, designed a striking, angular building with a modern, orange facade, referencing Esperanza's brand colors. As JGMA worked to accommodate the wide range of functions the new building would serve, from therapy and exercise rooms to a demonstration kitchen for healthy cooking classes, one obstacle common to many non-profit projects emerged: tight budget constraints.
Where others might have seen only challenges, the Focal Point team saw an opportunity.
"Lighting is typically one of the last items completed on construction projects and can often be scaled back due to budget considerations," says Focal Point President Chris Thornton, "We knew the vision the Esperanza team had for this facility and wanted to take that risk off the table."
Thornton and Focal Point leadership decided that the organization would donate luminaires to be used throughout the building interior, as well as help with lighting calculation to determine precise lighting needs throughout the space.
This was not the company's first full-facility luminaire donation; in 2017 Focal Point donated all of the lighting for Onward Neighborhood House, another local non-profit delivering services to underserved communities. But the Esperanza connection was a natural fit for Focal Point, which has its headquarters and manufacturing facilities in Brighton Park, where many of its employees also live. "Focal Point's donation ensured the lighting installed at Esperanza Brighton Park is innovative, inspiring and of the highest quality," says Thornton, "matching the center's overall design as well as the services they offer. Not only did it allow us to give back to our local community, but we knew that we were helping to create a more vibrant neighborhood for our employees who live there."
Working alongside lighting agent, PG Enlighten and JGMA, the Focal Point team carefully paired each area and function of the new building with luminaires that would create a visually engaging, warm and comforting environment. "It was part of a team effort," says JGMA senior project manager Dan Spore, "everyone had to be working collectively towards the same direction to make this come together. No one went to the extent that Focal Point did."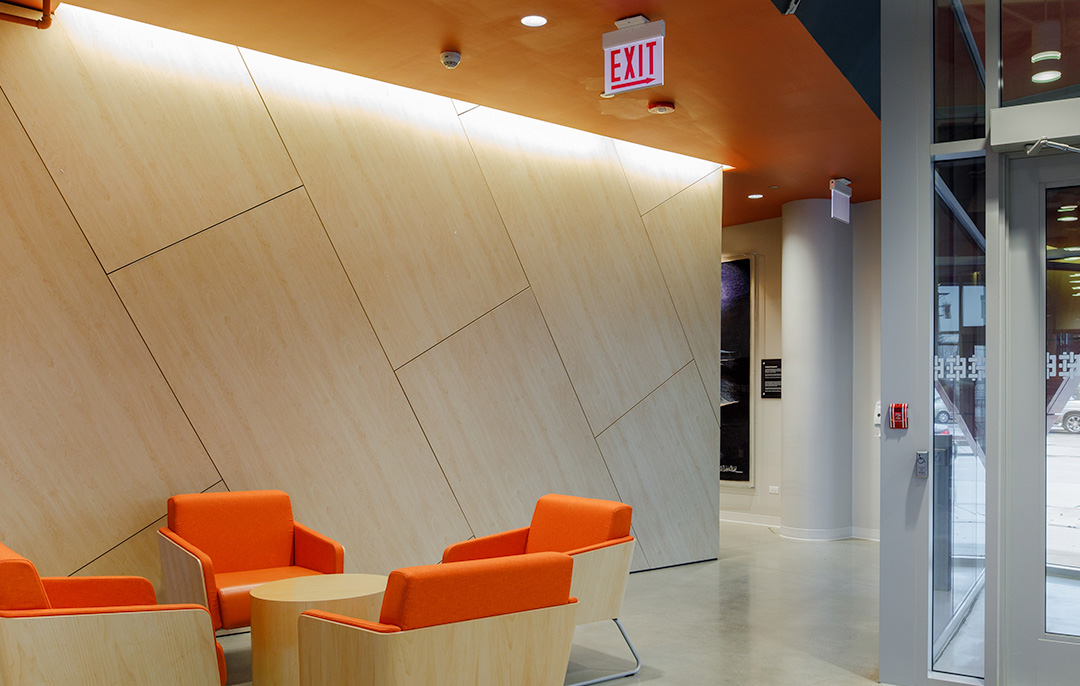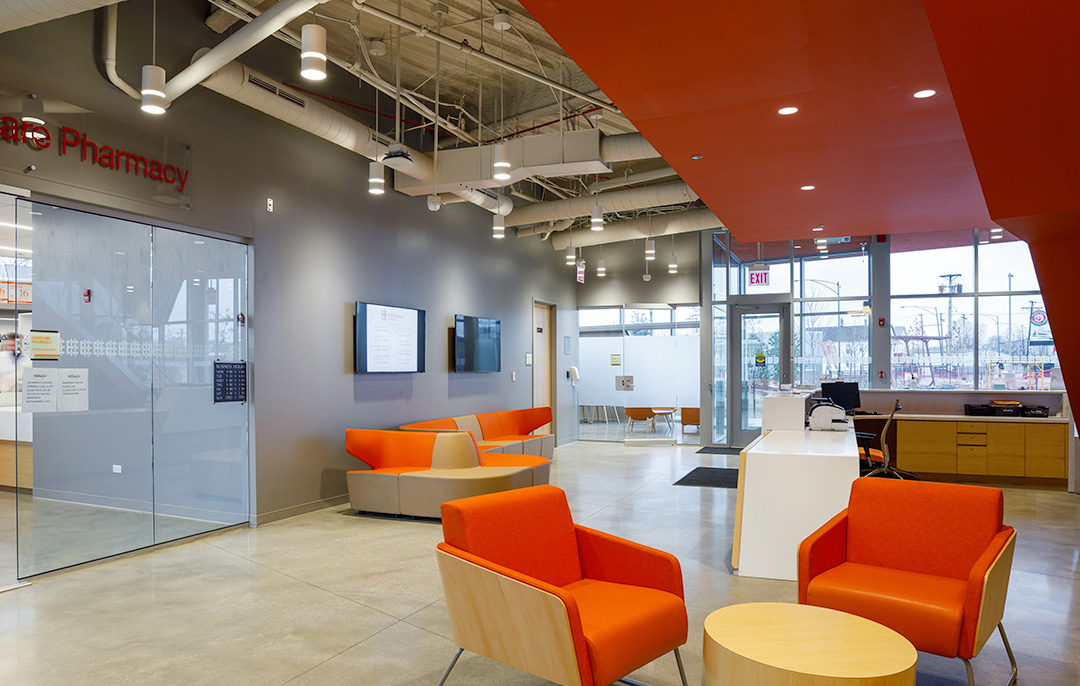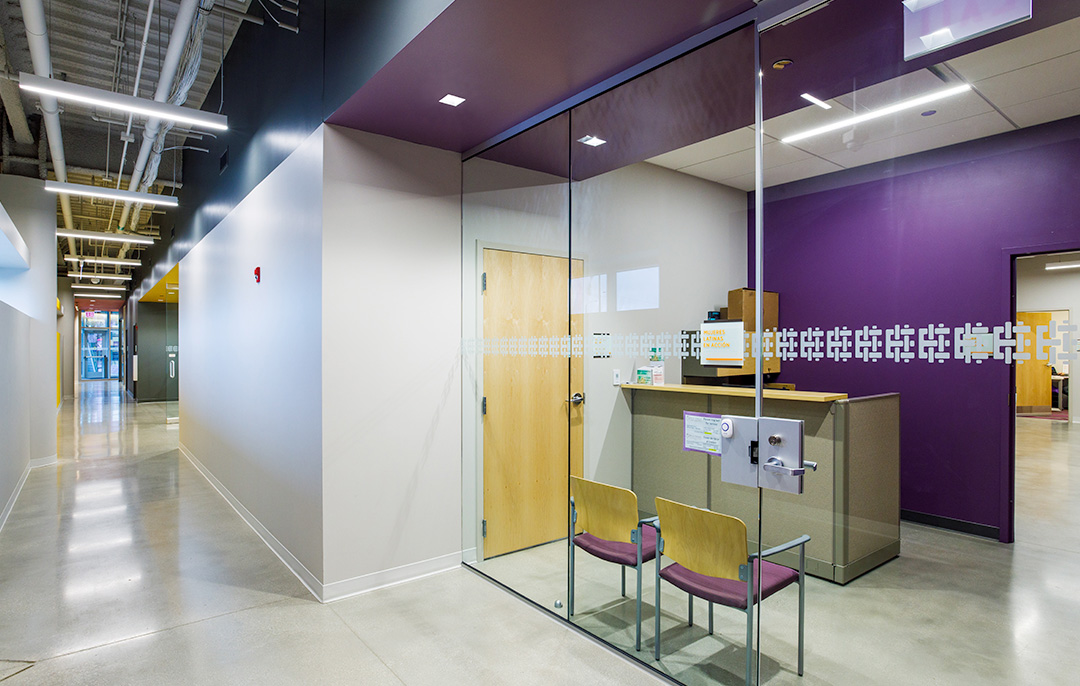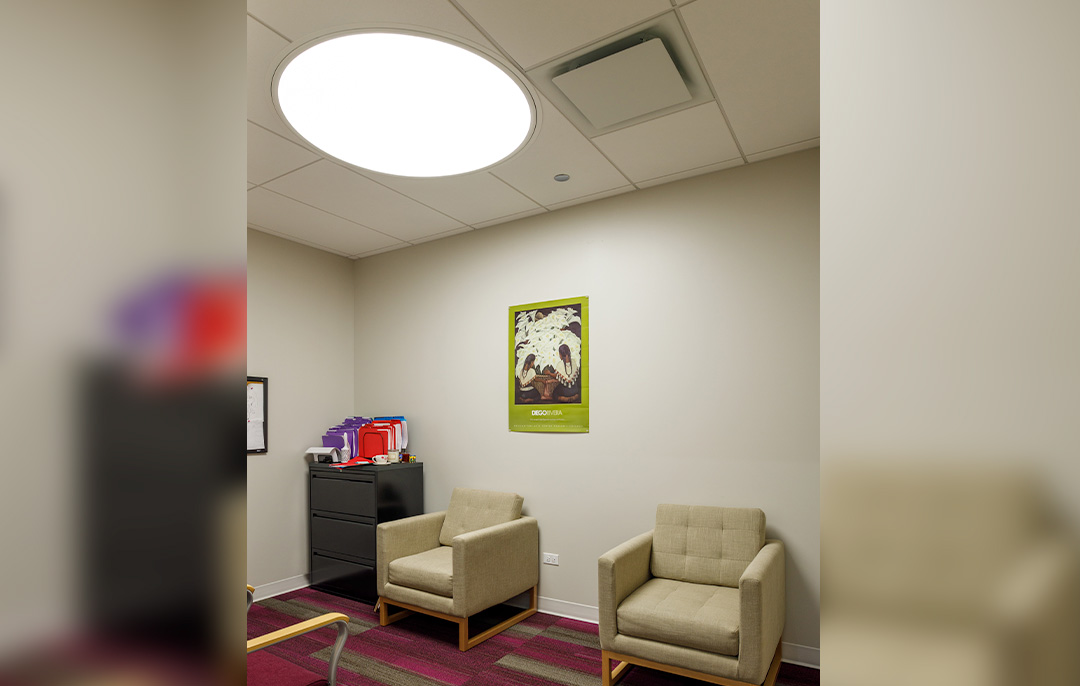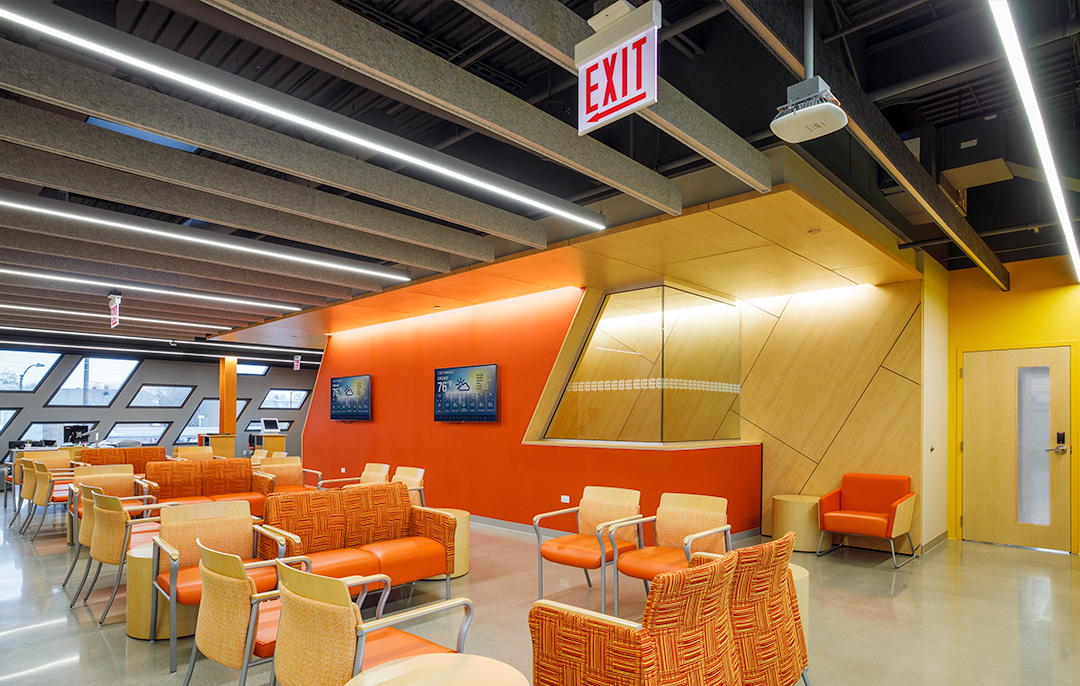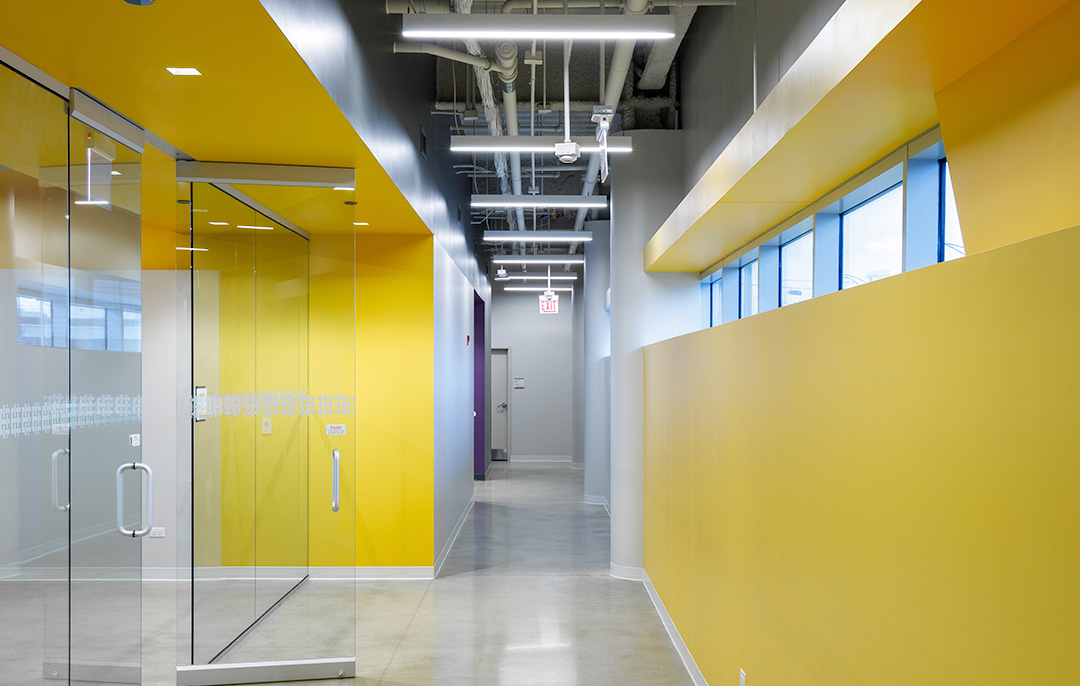 Focal Point's longtime focus on creating partnerships with architects and designers was invaluable as the team moved forward, incorporating lighting design that would foster a warm, beautiful welcome from the moment clients and patients enter the environment. In the lobby, Focus Wall Wash was used to turn a feature wall of natural wood into the central visual touchpoint of the space. Though ceiling surfaces would remain unfinished, the use of ID+ Cylinders shifted perception by adding an element of both design and lighting, "allowing the eye to focus on light rather than exposed dark elements in the space," says Spore. In adjacent ceiling spaces, ID+ Downlights with a matching aperture size were used to provide a seamlessly coordinated environment.
Special care was needed to illuminate therapy rooms, where Skydome luminaires were chosen for their ability to provide diffuse light and a calming environment. "You really want to put patients at comfort and ease," says Spore. "The Skydome luminaires have a soft glow and strike a nice middle ground of being soft and wonderful and aesthetically pleasing but also very functional for the space."
As in most modern spaces with unfinished ceilings, acoustics were also a concern. Focal Point's Seem 1 Acoustic Unlit helped address noise abatement in waiting areas and corridors without requiring additional changes to the ceiling, while Seem 1 Direct provided striking illumination. "What we really loved about Seem 1 Acoustic," says Spore, "is that it allowed us to design spaces that helped reduce some of the ceiling costs, while still addressing acoustics and lighting as one streamlined aesthetic."
Focal Point lighting and acoustic products acted as a seamless solution throughout, helping the team reach not only the project's technical goals, but its loftier ideas as well. "We knew this was an optimal opportunity to deliver on our mission of creating lighting solutions that enhance architecture and elevate the human spirit," says Thornton, "and right in our own backyard." Since the new health center opened in 2019, Esperanza has seen its clients, patients and community members welcomed by a state-of-the-art, accessible building that not only fosters inclusivity and human comfort but also sparks pride in the community. Focal Point is excited to have been an integral part of making that happen.
---
Project: Esperanza Healthcare
Location: Chicago, IL
Architect: Juan Gabriel Moreno Architects
Photographer: John Sternisha