Get your copy of the 2023 calendar desktop background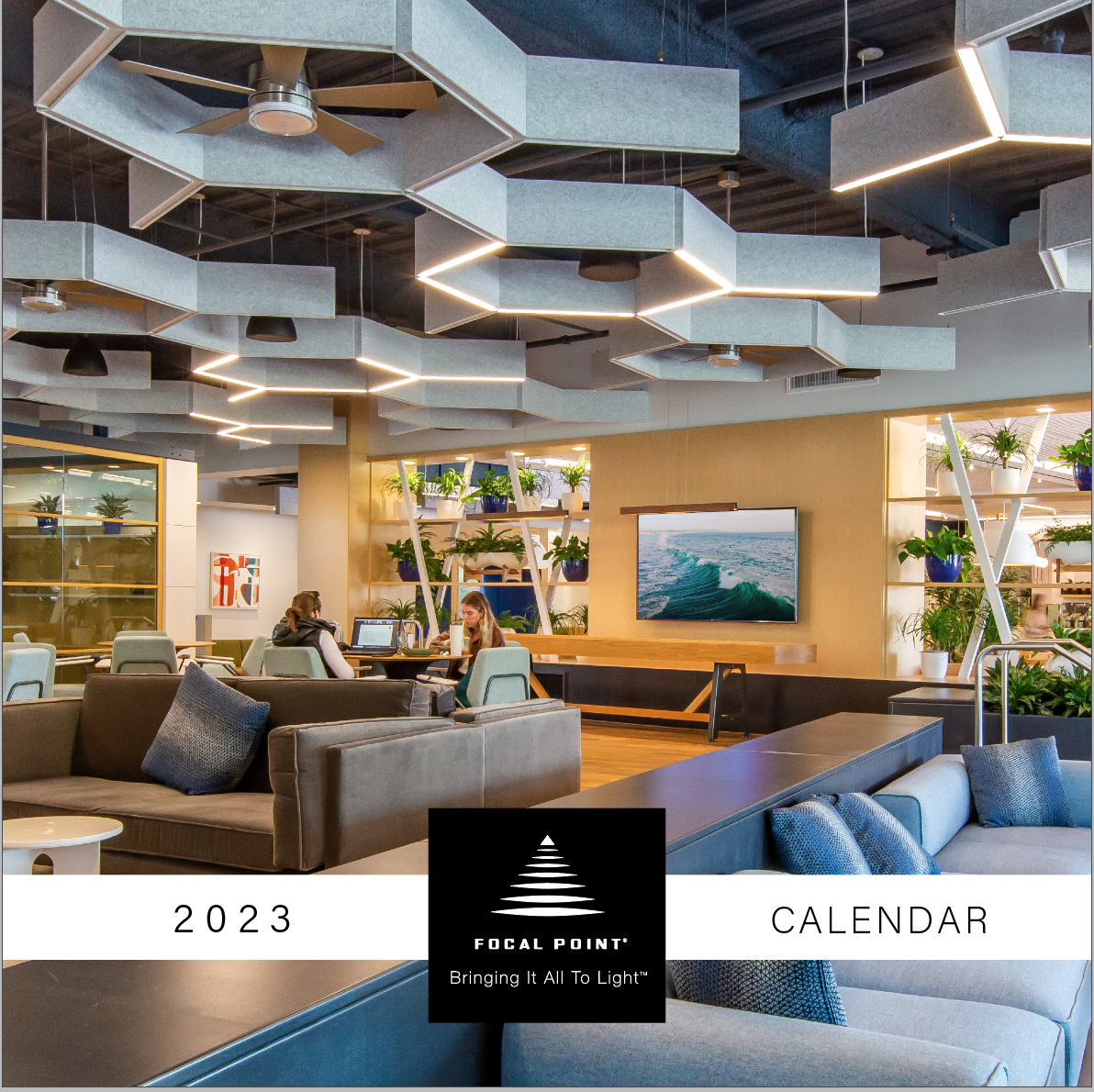 The coveted 2023 Focal Point calendar is now available for download as a digital desktop for most common screen sizes and resolutions, including tablets. Discover a new project each month and have a handy calendar at your fingertips at all times!
You can also request a traditional, printed version from your Focal Point lighting agent while supplies last.
Download the current month in your preferred format now and remember to come back each month to discover a new project!
---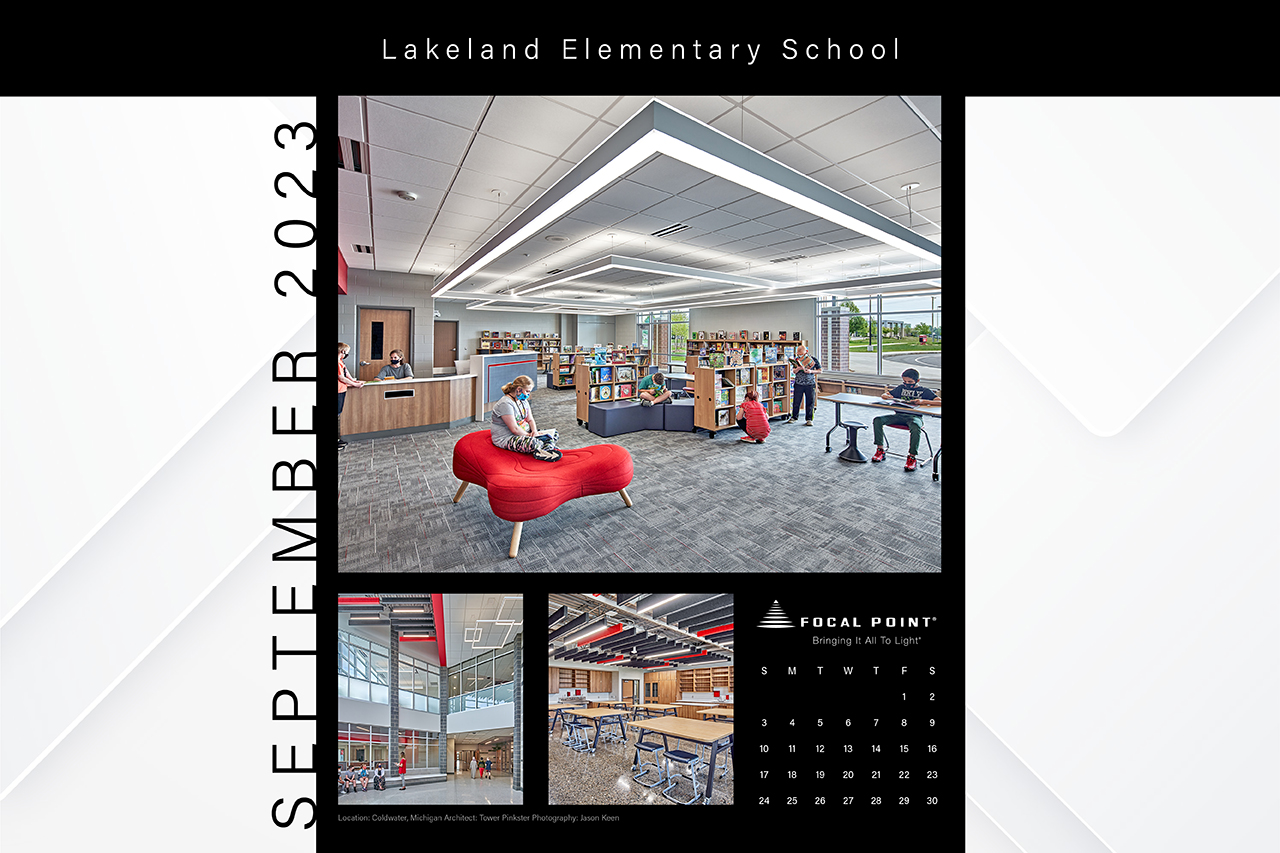 September | Lakeland Elementary School
Celebrating "Cardinal Pride" in a new modern, adaptable facility
The new two-story building provides a home for the 4th and 5th grades in close proximity of the Middle School and High School, creating a campus-like feel reinforced by the brand colors used for the buildings' interiors and exteriors. Flexibility is at the heart of the design concept, exemplified by classroom wings that can be separated from the public spaces.
Elements such as murals and signage are strategically placed to help reinforce school branding, including arrays of Seem 1 Acoustic baffles found in the lobby and other areas. A cluster of Nera pendants and several variations of Seem 4 are also used throughout the building including dramatic, nested rectangular patterns with pop-up and pop-down lenses.
Architect: Tower Pinkster
Photography: Jason Keen
Download Desktop Backgrounds:
Ultra HD – 5295x3530
HD – 1920x1280
SD – 1280x853
Surface – 2736x1824
---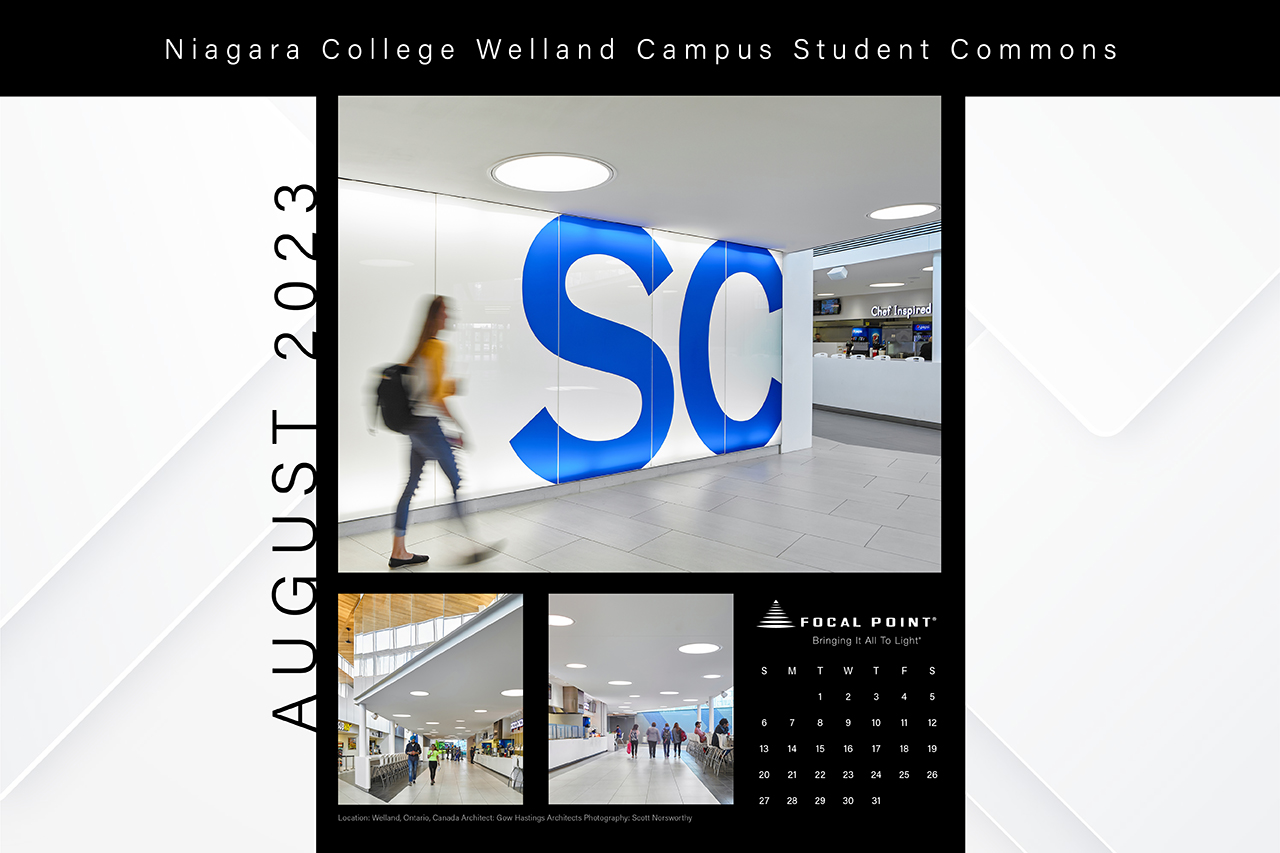 August | Niagara College Welland Campus Student Commons
Establishing a welcoming heart for the student community
The new Welland Camput Student Commons constitutes a vibrant hub and a flexible gathering place where students can study, collaborate, eat, and socialize. It upgrades the 1970s era campus with a welcome center, a cafeteria, a retail space, an activity room, and open spaces for learning and study with hotel-style amenities.
Playful details reinvigorate the campus' visual identity and official branding, including a recurring dot motif, also expressed with Skydome Recessed luminaires. The circular lights embedded in the ceiling resemble floating bubbles while visually leading users towards the central zone.
Architect: Gow Hastings Architects
Photography: Scott Norsworthy
Download Desktop Backgrounds:
Ultra HD – 5295x3530
HD – 1920x1280
SD – 1280x853
Surface – 2736x1824
---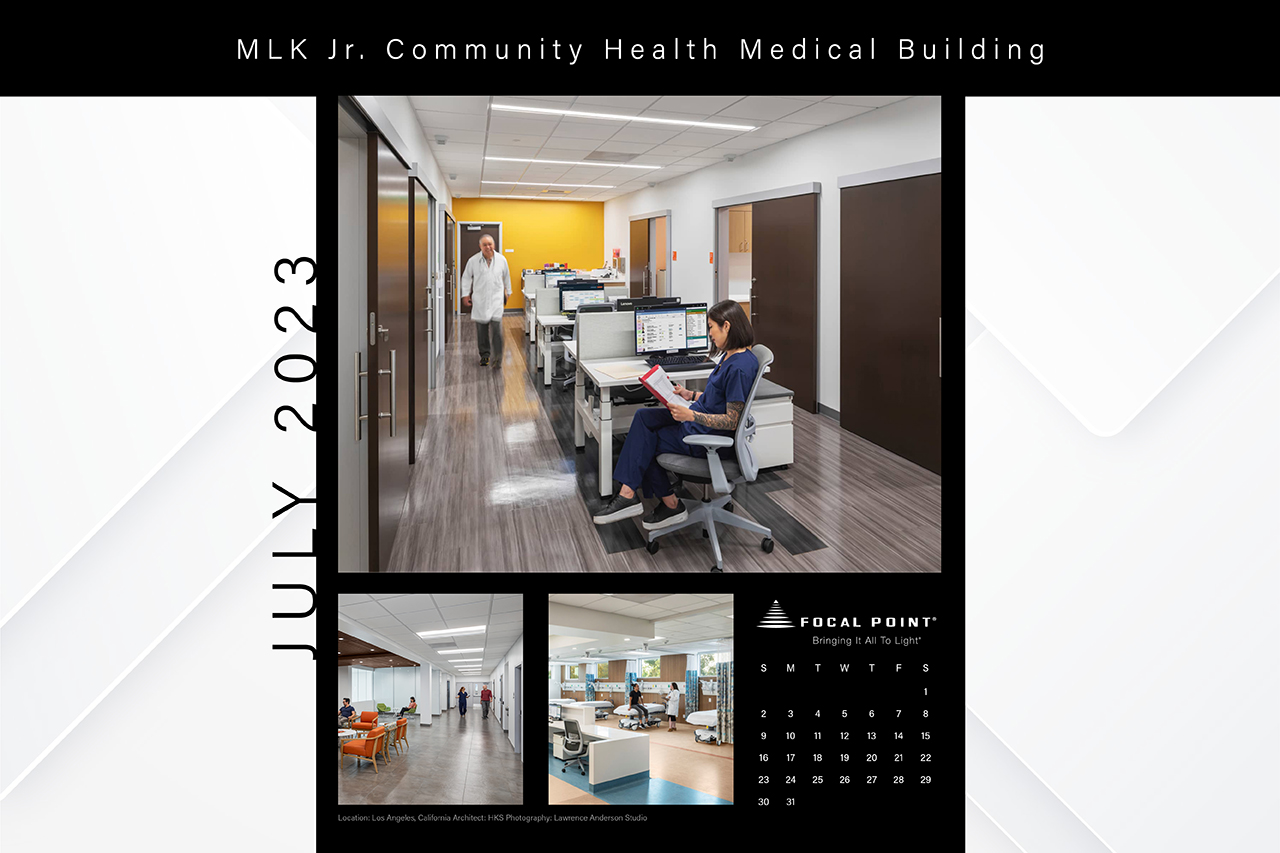 July | MLK Jr. Community Health Medical Building
Providing an essential healthcare oasis in South LA
The 50,000 square feet outpatient clinic and surgery center integrates healing with nature and provides an uplifting, dignified, and accessible health services option for a historically underserved community. The facility houses a primary care clinic with exam and procedure rooms, dental, behavioral health, and provider offices, as well as an outpatient ambulatory surgery center.
In addition to large windows that allow plenty of light, which helps facilitate healing, the facility is outfitted with several linear luminaires, including Focus Wall Wash, Seem 4 Perimeter and Recessed, as well as Luna troffers, known for their soft, comfortable light.
Architect: HKS
Photography: Lawrence Anderson Studio
Download Desktop Backgrounds:
Ultra HD – 5295x3530
HD – 1920x1280
SD – 1280x853
Surface – 2736x1824
---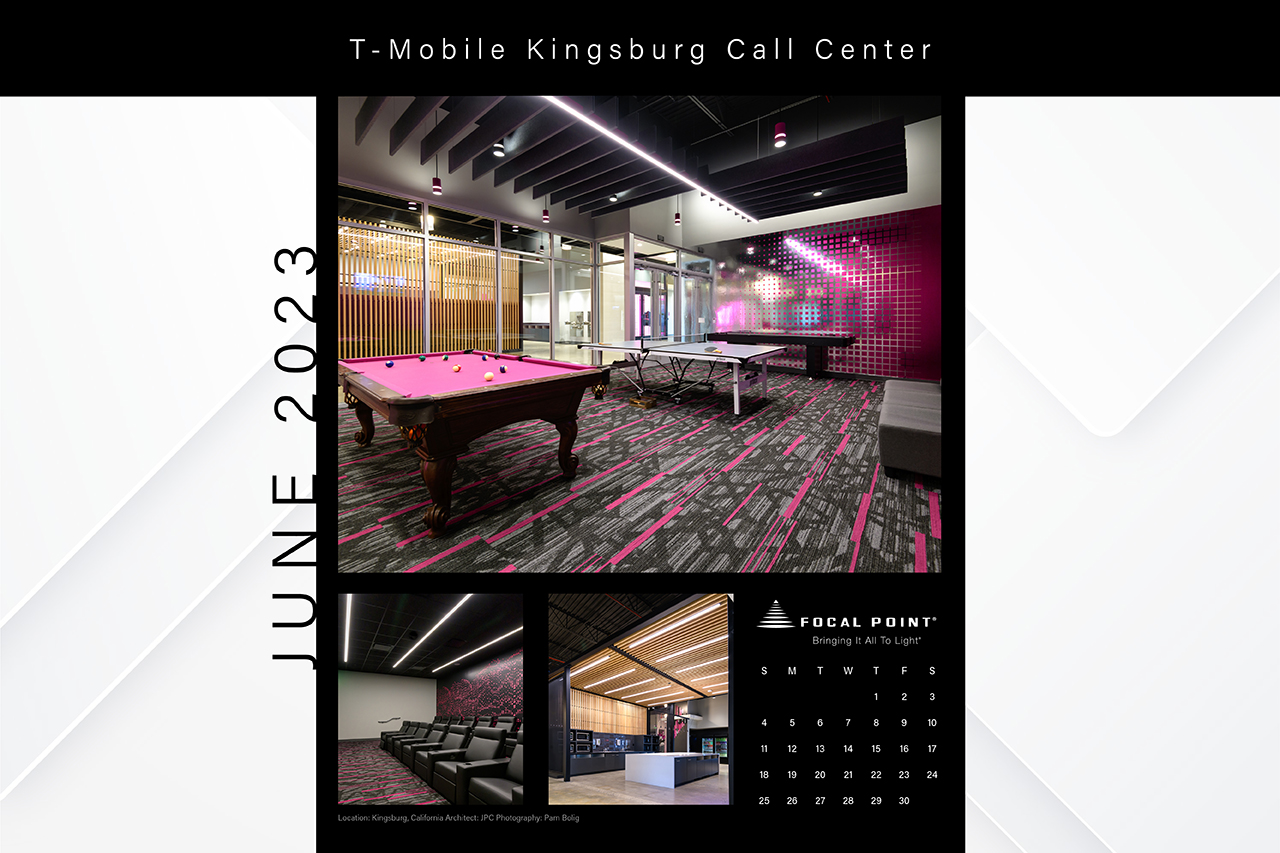 June | T-Mobile Kingsburg Call Center
Integrating strong branding with Swedish heritage design code
As is standard for T-Mobile offices, the Kingsburg Call Center is designed to bring vibrant energy to daily workspaces and give their employees a sense of pride and well-being. Various landmarks demarcate different interests and portal experiences, and employees enjoy fun amenities like a game room and theater, as well as breakout areas littered through the space.
Several acoustic and lighting solutions, such as AirCore Bridge with a custom magenta paint on the luminaire, ID+ 4.5" Cylinders in the same bold color, and an array composed of Seem 1 Acoustic baffles and Seem 1 Acoustic Trio pendants, creating arrow patterns, help convey the dynamic brand image.
Architect: JPC
Photography: Pam Bolig
Download Desktop Backgrounds:
Ultra HD – 5295x3530
HD – 1920x1280
SD – 1280x853
Surface – 2736x1824
---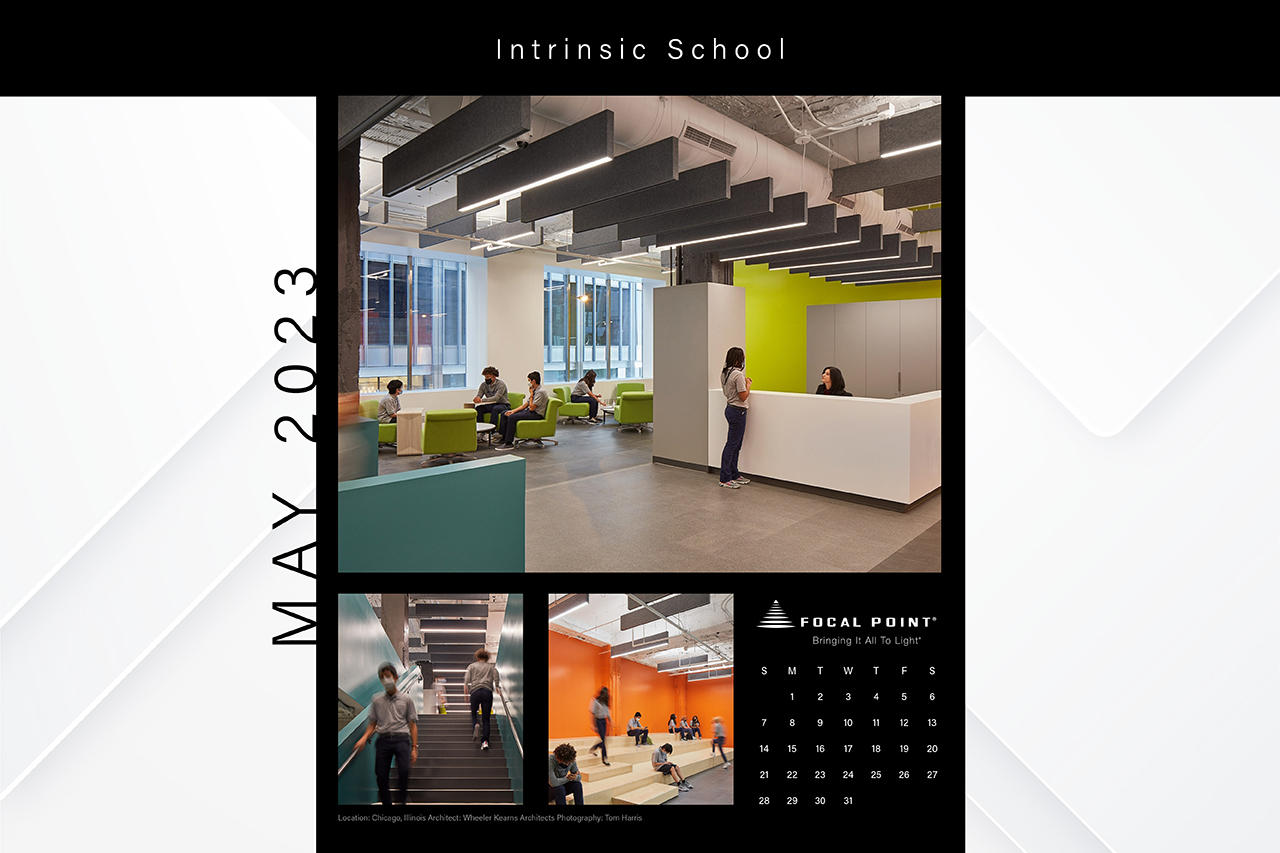 May | Intrinsic School
Creating unique learning spaces for the next generation of leaders in a downtown high-rise
Located in the heart of Chicago, the high school spans across five floors of the Bell Federal Building, one of the city's oldest high-rises. The non-traditional school, which uses a Blended Learning model, mixing teacher-led instruction and individualized, software-based learning, welcomed students from 40 different neighborhoods in its first year.
Glass partition walls and clerestory windows are used to bring as much daylight as possible in the open design concept. Seem 1 Acoustic Bidirectional & Unlit baffles are scattered throughout many areas of the school, providing a lighting solution that also fosters a positive learning environment by dampening noise levels and reverberations from hard surfaces.
Architect: Wheeler Kearns Architects
Photography: Tom Harris
Download Desktop Backgrounds:
Ultra HD – 5295x3530
HD – 1920x1280
SD – 1280x853
Surface – 2736x1824
---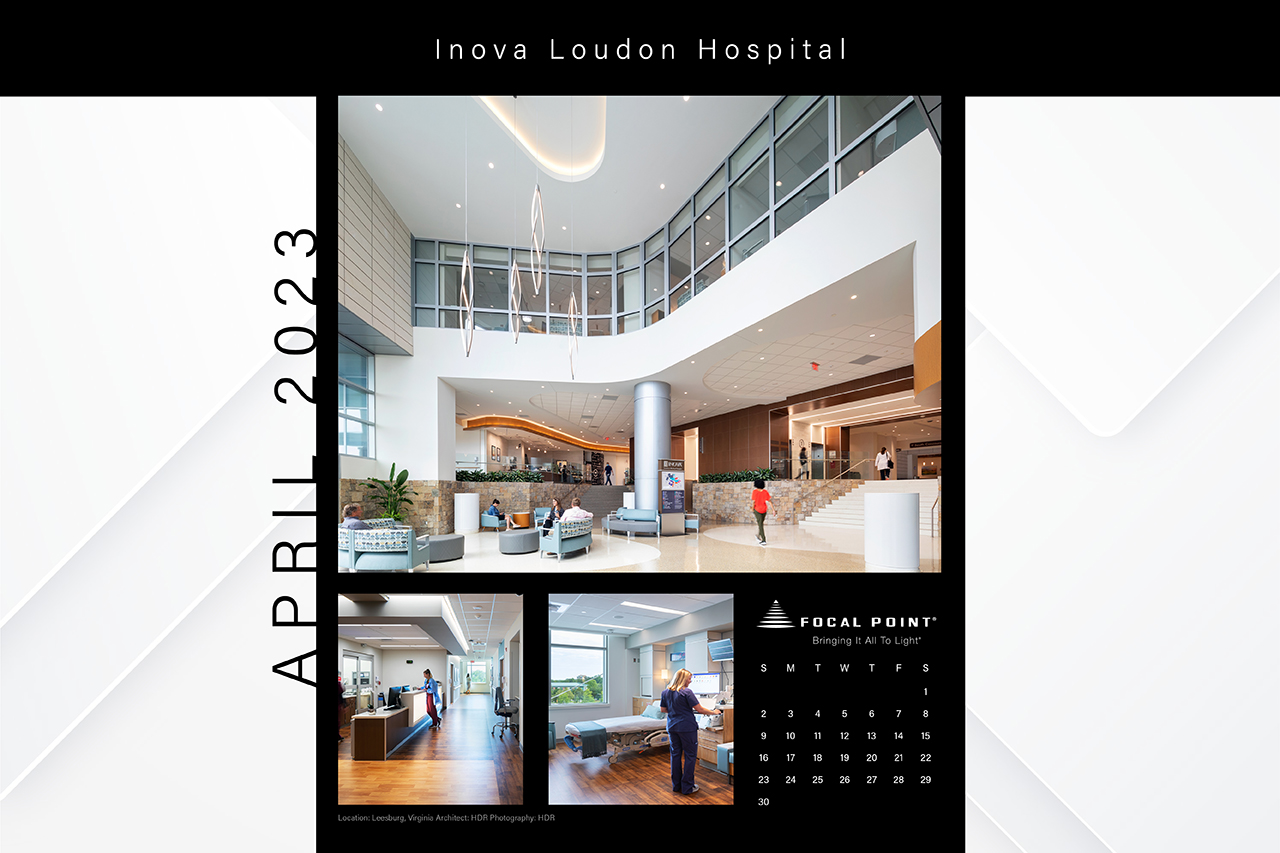 April | Inova Loudon Hospital
Uniting hospital and community history with iconic design and patient-centered technology
The North Patient Tower took a measure of inspiration from the nearby Dulles International Airport with several important architectural references to the landmark. Anchoring this heritage into today's needs, cutting-edge technologies were implemented within the facility. They include patient-centered innovations such as low-voltage LED lighting that creates opportunity for "quiet hours", pillow speakers to control the dimmable LED lighting, and circadian rhythm color-tuning lighting at all patient bed locations. Apollo 8 supports the needs of patients and clinical staff with three modes of operation and easy controllability. Several other luminaires, such as Seem 4 Recessed and Perimeter, Equation 2, and ID+ 4.5" Downlights adorn other areas of the award-winning hospital.
Architect: HDR
Photography: HDR
Download Desktop Backgrounds:
Ultra HD – 5295x3530
HD – 1920x1280
SD – 1280x853
Surface – 2736x1824
---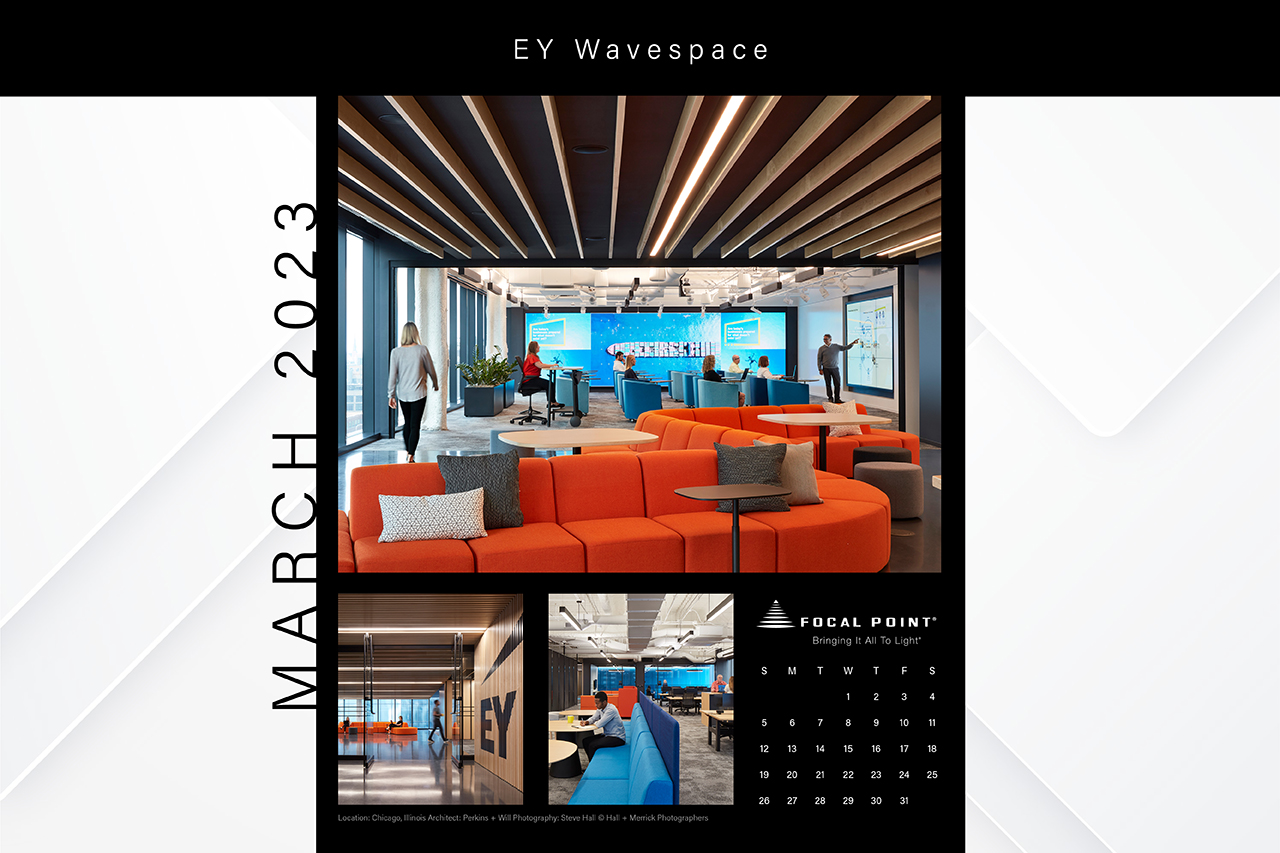 March | EY Wavespace
Helping companies speed up problem solving and decision making
The new EY Wavespace and Studio, the largest such facility to date, is designed to help companies tackle business challenges by providing the service of on-site designers, technologists, and strategists, along with opportunities for testing and rapid prototyping. Design and technology come together to help accelerate transformation, support innovation, and create measurable outcomes, faster. A variety of Seem 2 and Seem 4 linear luminaires integrate in the innovative architecture of the space, providing optimal lighting while letting the design shine.
Architect: Perkins + Will
Photography: Steve Hall © Hall + Merrick Photographers
Download Desktop Backgrounds:
Ultra HD – 5295x3530
HD – 1920x1280
SD – 1280x853
Surface – 2736x1824
---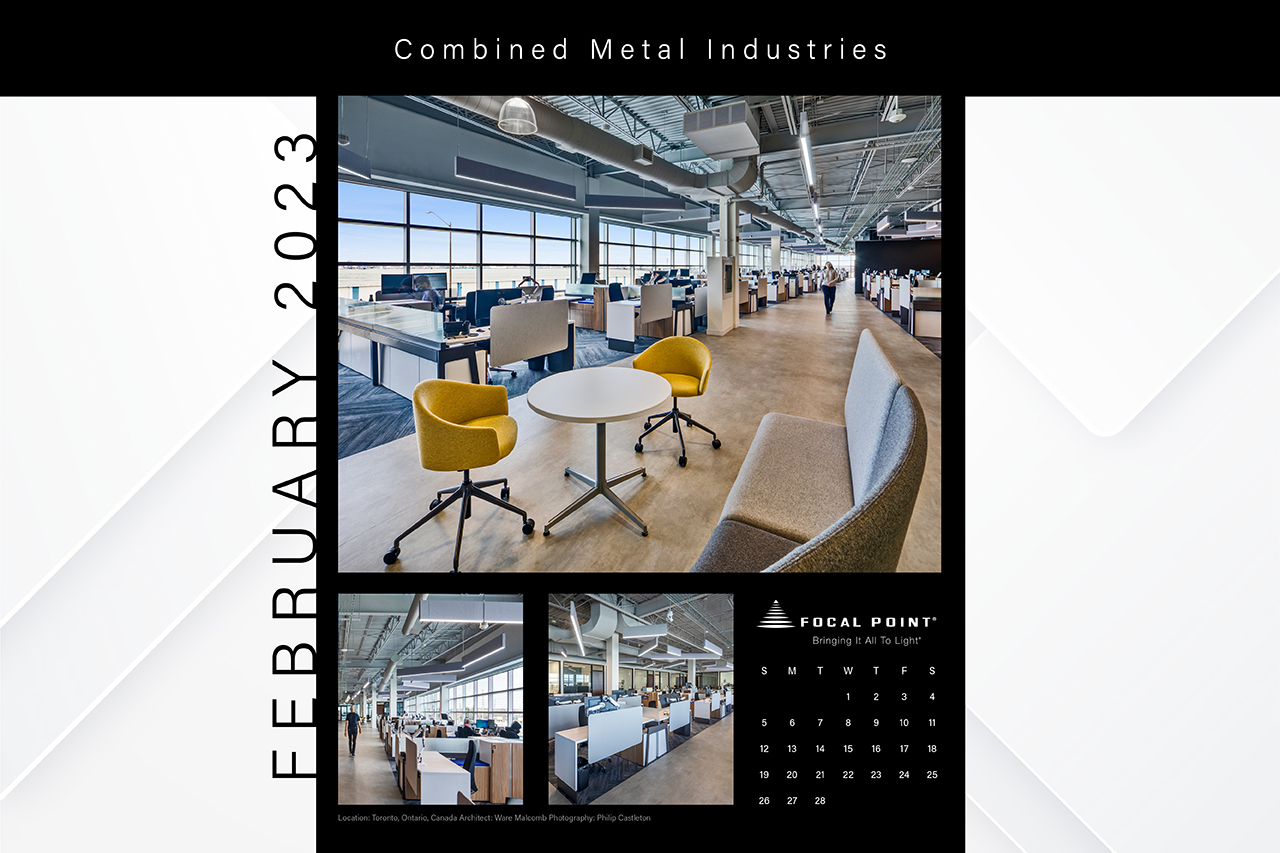 February | Combined Metal Industries
Redefining what a metal recycling operation should be
The new 240,000 square feet facility eliminates the congestion, dust, noise, and poor lighting conditions typically associated with the metal recycling industry. Through architecture, it expresses the company's core values and commitment to revolutionizing how scrap metal recycling is perceived. An expansive, open concept interior maximizes traffic flow and visibility, and allows natural light to flood the space. Energy efficient LED lighting, including Seem 1 Acoustic luminaires arranged in a dynamic, seemingly random patten, provides a safe and positive work environment that puts people first.
Architect: Ware Malcomb
Photography: Philip Castleton
Download Desktop Backgrounds:
Ultra HD – 5295x3530
HD – 1920x1280
SD – 1280x853
Surface – 2736x1824
---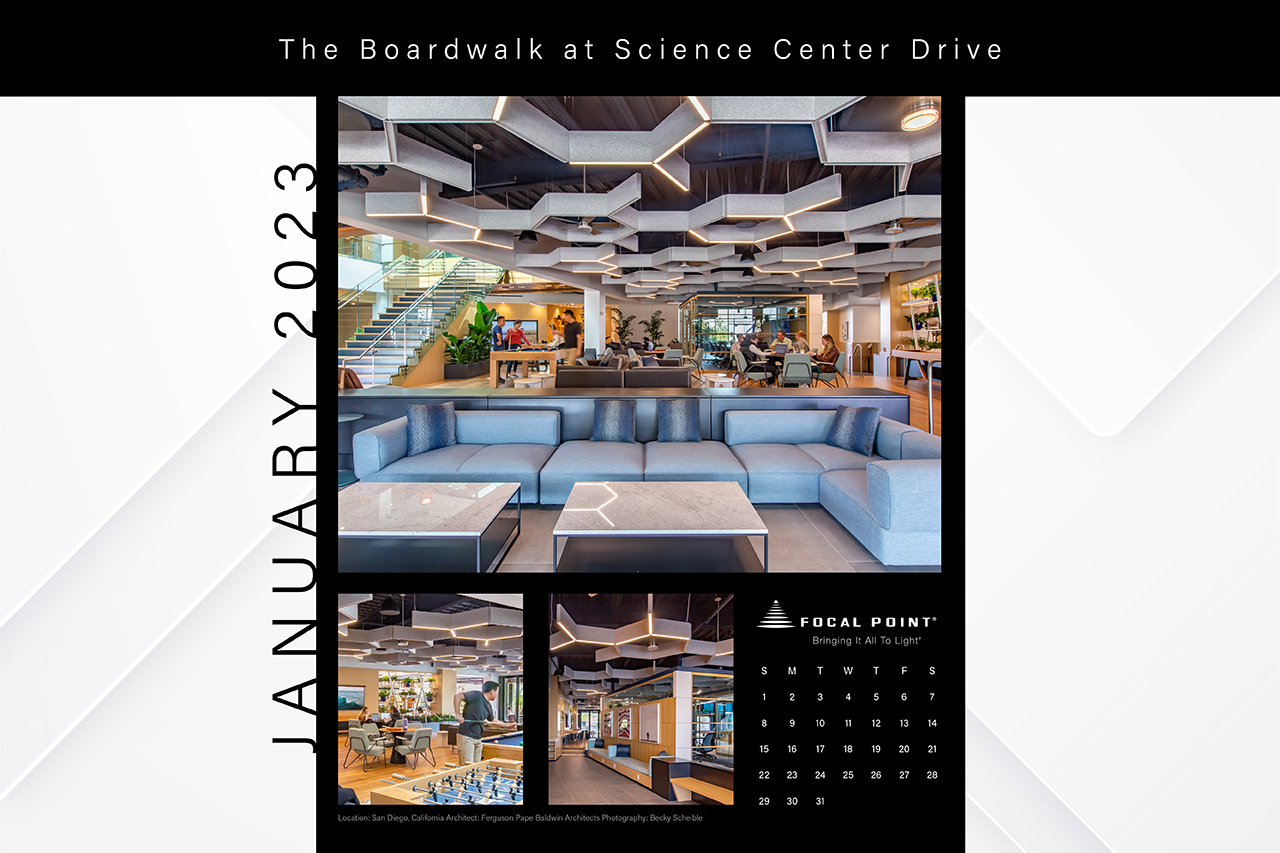 January | The Boardwalk at Science Center Drive
Using architecture to meet the evolving needs of the life sciences community
The Boardwalk is a LEED-certified Class A, multi-tenant science research campus with a first-class amenity package that includes a full-service restaurant, indoor/outdoor meeting areas, and a fitness space that takes advantage of the San Diego climate. The design brings to life a variety of spaces for scientific research with both interior and exterior campus amenities. Seem 1 Acoustic Trio covers a large expanse of ceiling over an open, multi-use area. The beehive arrangement of the bi-directional and unlit acoustic pendants creates a visually striking design feature that contributes to occupants' comfort by dampening sound and providing optimal ambient lighting.
Architect: Ferguson Pape Baldwin Architects
Photography: Becky Scheible
Download Desktop Backgrounds:
Ultra HD – 5295x3530
HD – 1920x1280
SD – 1280x853
Surface – 2736x1824