Welcome to Coming Soon, where you'll be able to preview a selection of new products and product options available for specification before their official market launch. These products will be ready for shipment as of the launch dates indicated below. Preliminary information and cut sheets are only accessible from this page and products are added regularly, so make sure to come back often!
ID+ 4.5" Adjustable
Launched August 2021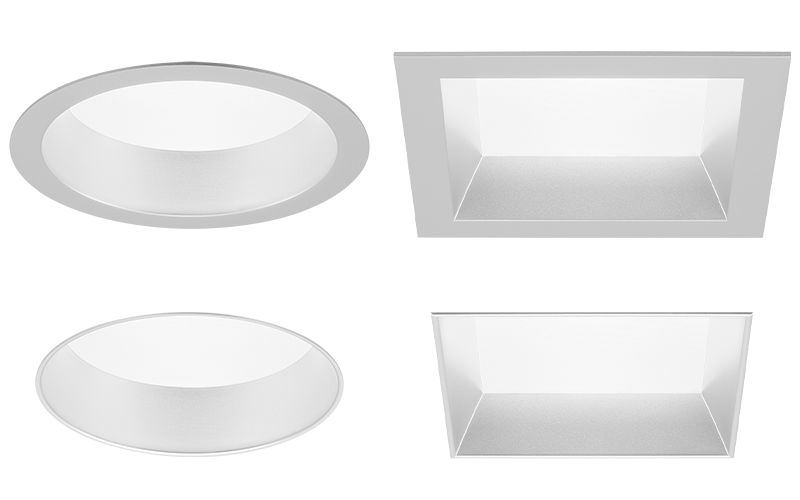 The new adjustable accent was re-designed with performance and practicality in mind. A powerful tool for discerning lighting professionals, it also packs contractor-friendly features. With a new shallow housing of 4" (5" for the IC version), ideal for restricted plenum applications, and outputs up to 4000 lumens, it offers the highest light output for the size on the market. It also supports accent lighting, task lighting, and general illumination applications with a variety of beam spreads, from Spot (12°) to Super Wide Flood (90°) with round and square apertures. Adjustability, with a vertical tilt up to 40°and rotation up to 364°, allow for precise aiming and, combined with its shallow depth, make it an ideal solution for sloped ceilings. It is available in CRI 80, 90, and 97 for standard white and two warm dim ranges that mimic the black body curves of incandescent and halogen light sources at CRI 90. Competitively priced and with drivers accessible from below the ceiling, it will meet the needs of both designers and contractors in applications as diverse as commercial offices, hospitality and retail environments, museums and galleries, as well as residential settings.