Why lighting made in the USA matters
The lighting market is flooded with products that were manufactured overseas, where labor is cheaper and regulatory standards are lower. Does it matter whether you choose light fixtures made in the USA? Yes. Here's why.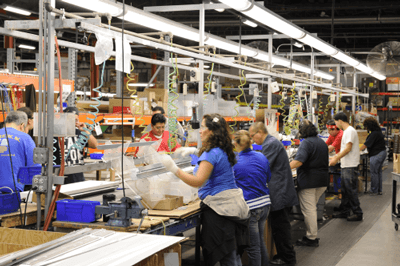 A commitment to your application requirements
Focal Point is vertically integrated in a way that's unique in the lighting industry. Our manufacturing operations are located in the same Chicago facility as our design, sales and service teams. Many of our suppliers are also located nearby – simplifying logistics, minimizing shipping costs, and allowing for close collaboration that leads to better product design and quality.
By keeping everything we do as near as possible to our customers in North America, we have an unmatched ability to meet the needs of lighting designers and architects who are looking for something truly special – not just another "me too" lighting product.
We can work with you personally to understand exactly what the project requires, then work with our production managers to make it happen. In many cases, we've even modified or created entirely new products to perfectly fit a specialized lighting application.
A commitment to on-time, on-target delivery
When you order American-made lighting from Focal Point, you're dealing with people you know who are directly responsible for getting your order manufactured to your specification and delivered to your schedule. We're accountable to you, and we have direct oversight of our suppliers and production to ensure your needs are met.
We even offer a 5- or 10-day Quickship program that manufactures products to your order – rather than pulling them off a warehouse shelf.
If there's ever a problem, the same Focal Point people are right here for you, willing and ready to do whatever it takes to help your project succeed just as you envisioned it. And that assurance goes far beyond the current job. We're uniquely vested in the North American lighting community, and nothing is more important to us than earning your enduring trust.
A commitment to quality and selection
Our family-owned business focuses exclusively on providing lighting made in the USA specifically designed to meet the needs of architects who we often know personally – our colleagues and even friends.
We care about each customer and the excellence of each project. Over the decades we've been doing this, this personal attention has led us to develop a product portfolio that's unmatched in terms of quality and selection to suit the needs of specific lighting projects in locations across the USA.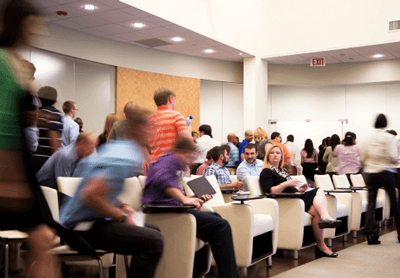 A commitment to stronger families and communities
"Think globally, act locally" isn't just a slogan – it's a practice that really does make a difference. When you choose light fixtures made in the USA, you're supporting local jobs. Many jobs have moved overseas in recent years, but we're helping reverse that trend by employing hundreds of people directly in the Chicago area, and supporting hundreds more jobs through our regional supply chain.
Employing Americans and keeping money circulating in the US economy is the whole point of the "Buy American" provision of the American Recovery and Reinvestment Act – and Focal Point makes it easy to comply.
When money goes into the pockets of Americans who help create the products you buy, their families are strengthened. When taxes are paid in America, communities are strengthened through improved infrastructure and services. When wages are reinvested again and again locally, the economy is stimulated to create even more opportunities.
For every manufacturing job, it's estimated that an additional five jobs are created – a virtuous cycle that is sustained by local action. That's why Focal Point has made the investments and commitment to exclusively deliver lighting made in the USA.
A commitment to a better world
You're also thinking globally when you choose American made lighting by Focal Point. The cost of shipping is built into the price of products manufactured overseas, but there's no accounting for the environmental costs. Regulatory standards may be lax and opaque, and shipping across the Atlantic or Pacific consumes petroleum unnecessarily while releasing vast quantities of toxic and greenhouse gases into the atmosphere.
When you buy American, you're shrinking your carbon footprint by choosing products that require minimal shipping from supplier to manufacturer, and from manufacturer to your project site. Plus, you can directly observe your supplier's efforts to conserve, recycle, minimize waste and contribute to a better world.
You're also creating functional beauty that helps inspire architects and lighting designers everywhere to commit to building a better world. And that may be the most important reason why lighting made in the USA – lighting made by Focal Point – really matters.